A NoSQL database provides a mechanism for storage and retrieval of data that is modeled in means other than the tabular relations used in relational databases.  NoSQL is often interpreted as Not-only-SQL to emphasize that they may also support SQL-like query languages.
NoSQL is simply the term that is used to describe a family of databases that are all non-relational.  While the technologies, data types, and use cases vary wildly amount them, it is generally agreed that there are four types of NoSQL databases:
The CAP Theorem states that it is impossible for a distributed computer system to simultaneously provide all three of the following guarantees:
Consistency

(all nodes see the same data at the same time)

Availability

(a guarantee that every request receives a response about whether it succeeded or failed)

Partition tolerance

(the system continues to operate despite arbitrary message loss or failure of part of the system)
Since you can only pick two guarantees, here is a list of NoSQL system broken out by the two that they support:
Here is a quick summary of the most popular NoSQL products by group: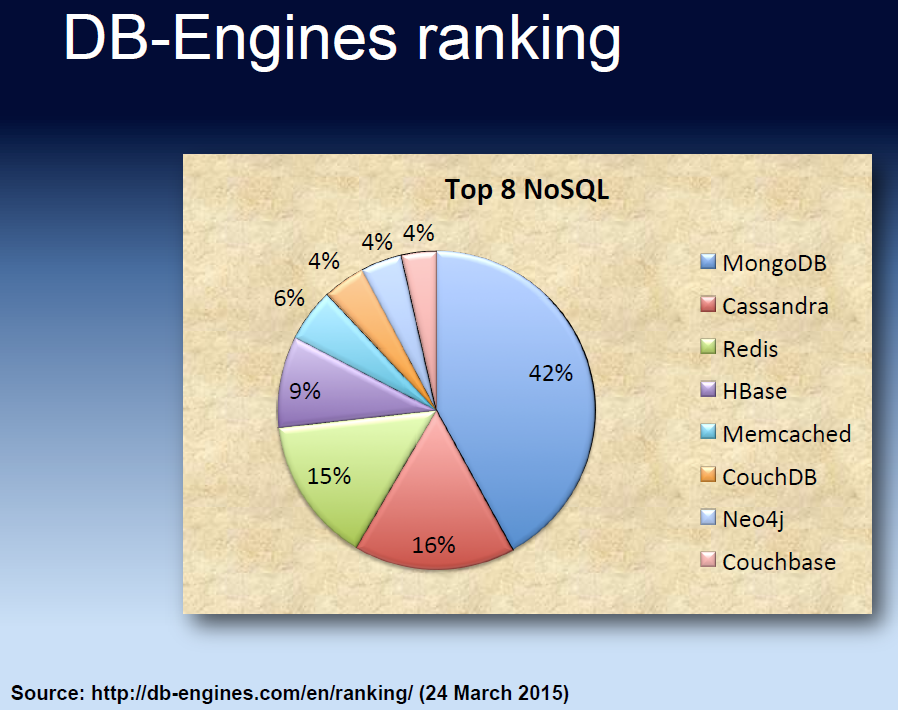 But I'll leave you with this note: Although NoSQL databases are becoming more popular, according to DB-Engines Ranking they only make up about 12% of the total database market when you include relational databases!
More info:
Thumbtack: NoSQL Database Comparison by Ben Engber
MongoDB, Cassandra, and HBase — the three NoSQL databases to watch
DB-Engines database popularity ranking
NoSQL showdown: MongoDB vs. Couchbase
NoSQL standouts: New databases for new applications