Advanced Analytics, or Business Analytics, refers to future-oriented analysis that can be used to help drive changes and improvements in business practices.  It is made up of four phases:
Descriptive Analytics: What is generally referred to as "business intelligence", this phase is where a lot of digital information is captured.  Then this big data is condensed into smaller, more useful nuggets of information, creating an understanding of the correlations between those nuggets to find out why something is happening ("Diagnostic Analytics").  In short, you are providing insight into what has happened to uncover trends and patterns.  An example is Netflix using historic sales and customer data to improve their recommendation engine.
Predictive analytics: Utilizes a variety of statistical, modeling, data mining, and machine learning techniques to study recent and historical data, thereby allowing analysts to make predictions, or forecasts, about the future.  In short, it helps model and forecast what might happen.  For example, taking sales data, social media data, and weather data to forecast the product demand for a certain region and to adjust production.  Or you can use predictive analytics to determine outcomes such as whether a customer will "leave or stay" or "buy or not buy."
Prescriptive analytics: Goes beyond predicting future outcomes by also suggesting actions to benefit from the predictions and showing the decision maker the implications of each decision option.  Prescriptive analytics not only anticipates what will happen and when it will happen, but also why it will happen.  The output is a decision using simulation and optimization.  In short, it seeks to determine the best solution or preferred course of action among various choices.  For example, airlines sift thought millions of flight itineraries to set an optimal price at any given time based on supply and demand.  Also, prescriptive analytics in healthcare can be used to guide clinician actions by making treatment recommendations based on models that use relevant historical intervention and outcome data.
To summarize all four phases:
Descriptive: "What happened?", Diagnostic: "Why did it happen?", Predictive: "What will happen?", Prescriptive: "What is the best outcome and how can we make it happen?"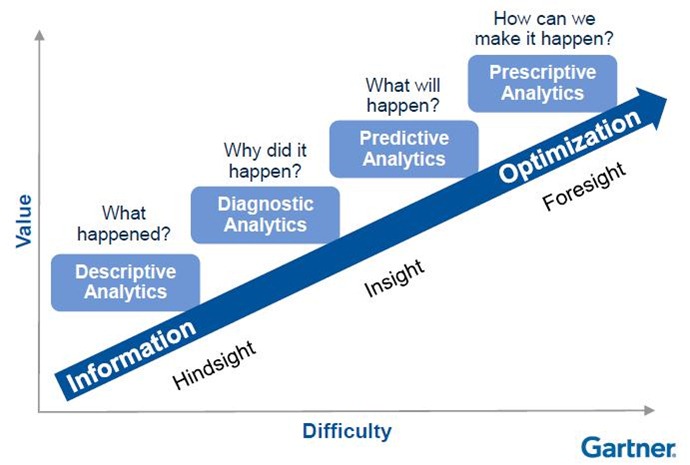 More info:
Predictive, Descriptive, Prescriptive Analytics
Big Data Analytics: Descriptive Vs. Predictive Vs. Prescriptive
Understanding Your Business With Descriptive, Predictive and Prescriptive Analytics
Descriptive, Predictive, and Prescriptive Analytics Explained
Business Analytics: Moving From Descriptive To Predictive Analytics
From insight to action: why prescriptive analytics is the next big step for big data
Forecasting and Predictive Analytics